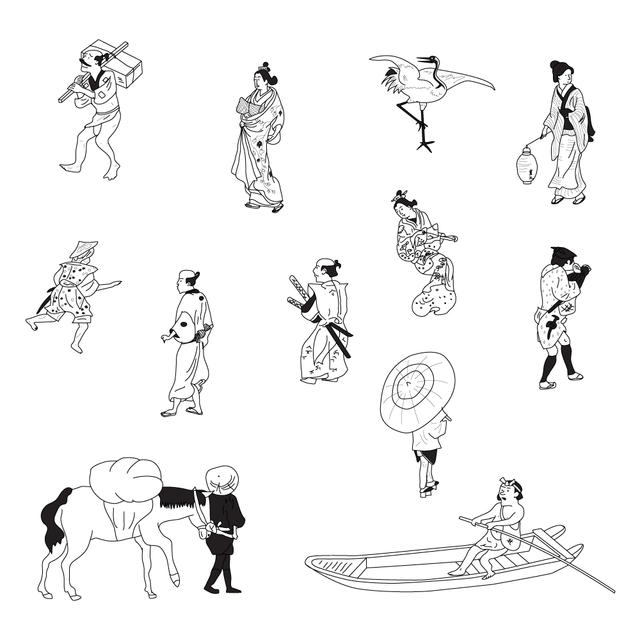 12 Vector Line Drawing Japanese People of the Edo Period for sections and elevations
Locals of Edo: Add a unique and historical style to your drawings with this collection of people from the Edo Period in Japan. Includes samurai, travelers, peddlers, merchants, commoners, and more.
The Edo period is one of the richest in the history of Japanese art, but only in recent decades has it become a focus of art-historical study in Japan. "Edo" refers both to the city of Edo—now called Tokyo—and to a time period, from 1615 to 1868, during which fifteen generations of Tokugawa shogun, or feudal overlords, ruled Japan from this urban capital. The political stability of the period enabled a vibrant popular culture to develop, and new styles of artistic expression appeared throughout Japan. The term Edo now connotes a distinctive aesthetic sensibility that spans a wide range of art forms, including screen paintings, scrolls, sculptures, ceramics, lacquers, textiles, and woodblock prints. This catalog accompanied the first large-scale exhibition covering the entire Edo period to be held in the United States.
Illustrations by Jeremy Shigemitsu
I am a Vancouver-based designer with a passion for architecture, nature, and visual storytelling. I am currently a Master of Architecture student.

Follow him on Instagram: @jeremyshigemitsu
File format: AI, Compatible and Adobe Illustrator

Product License
Free Products
Free products can be used in any type of use - both academic and commercial. When using a set, a pack or part of it, you are required to give full credit to Studio Alternativi (with an active link for online versions) and to the product's creator.

When a product is used in a project that is published on social media, you are required to give full credit to Studio Alternativi (with an active tag to Studio Alternativi's profile).

Educational (Academic) Use
When using a product tagged with "Educational Use" you are allowed to use it for academic purposes only. Giving credit to Studio Alternativi is much appreciated.

Commercial Use
Once bought, you are free to use the product without giving attribution.

What is strictly not allowed to do (in all cases)?
Products can't be sold without being part of a bigger artwork like a drawing, collage, rendering, poster or any other work combining Studio Alternativi's digital products with other graphic or digital elements.
Also, you are not allowed to use products from Studio Alternativi in similar or any competing services.
Download Instructions
RAR / ZIP Folders
Please use WINRAR - a free software to open the compressed folder.
AI Vector Files
Please use Adobe Illustrator to open the files
ABR (Photoshop Brushes)
1. Open Adobe Photoshop
2. Open the Brushes Panel: Window > Brushes
3. Select Import Brushes
4. Locate the .abr file on your hard drive and click open to install
5. The brushes will appear in your Brushes Panel whenever the Brush Tool is selected