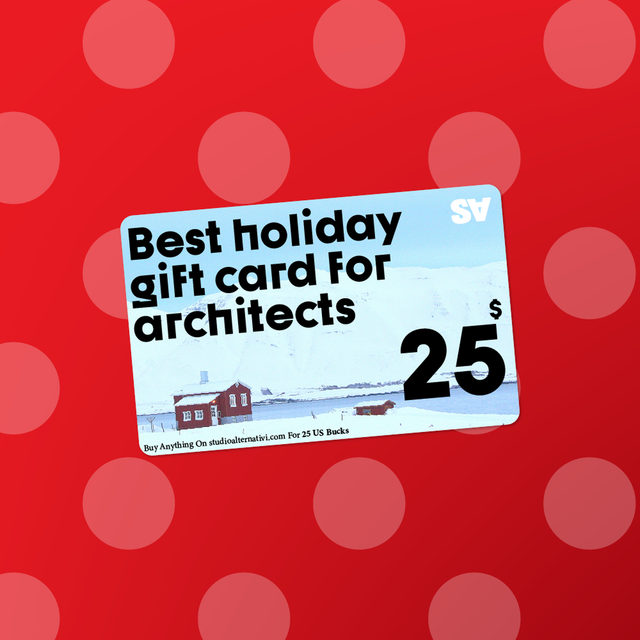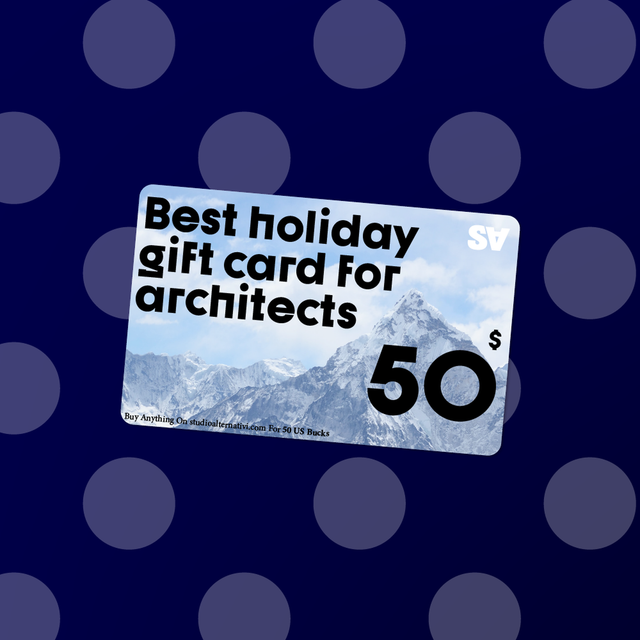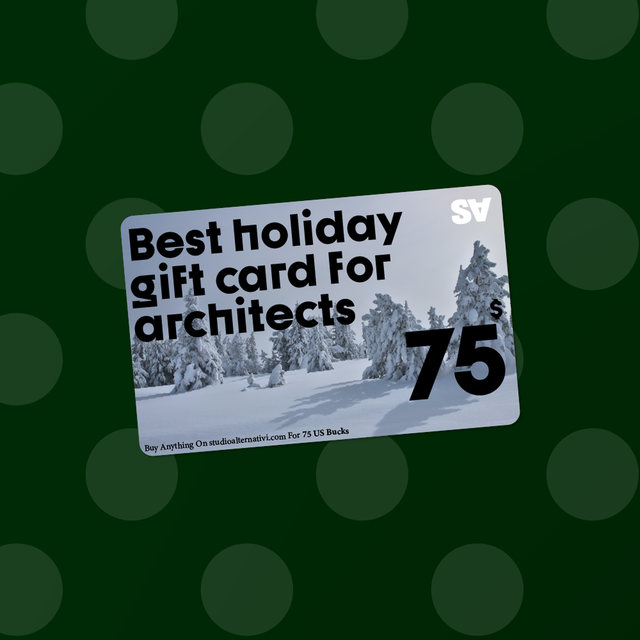 Best Gift Card for Architects and Designers
Digital gifts for architects and designers with immediate download
The holiday period is almost here and it's time to think about valuable and useful gifts and presents for your architect and interior design friends. Lets face it, finding what architects really need as a gift isn't an easy task, especially in these crazy times when the panic of Covid-19 is everywhere.

We've created 3 gift cards that you can buy and give to your friend as a present without any need to wait (it can be bought and given on the same day) and without meeting each other physically to minimize Coronavirus risks. 
Also, it's probably the best virtual gift for architects, interior designers and students, as they can choose the most useful products for them out of a big variety that our store offers.


What is a gift card?
It's a virtual credit card with some cash preloaded. A friend that receives it can spend the money to buy a product or several ones on studioalternativi.com


What card values are available?
25$, 50$, 75$


What can I buy with this gift card?
Everything that is in stock on studioalternativi.com
Please check out our best sellers collection for great ideas. 


Can I buy two or more cards?
Yes.


What if a friend doesn't like the present?
Sorry, ones purchased, unfortunately the gift card is not subject to refunding.


Can one buy a product that is on sale with a gift card?
Of course, easy peasy


There are lots of them: Vector products, PNG files with no background, Revit families, Photoshop brushes, CAD files and blocks, Adobe Illustrator actions, Vector maps, People from above, Front view characters and vehicles, Vector and PNG trees and vegetation, Vector children characters, Furniture cutouts, ArtCutOut Entourage files, files for collages, assemblages and many many more.

Btw, for those of you that have forgotten to buy their architect friend a birthday or a holiday present and have no time to buy a physical one, Studio Alternativi gift cards are probably the best last minute present that can be found on the internet these days.
_

Gift cards are delivered by email and contain instructions to redeem them at checkout.
Our gift cards have no additional processing fees.
Product License
Free Products
Free products can be used in any type of use - both academic and commercial. When using a set, a pack or part of it, you are required to give full credit to Studio Alternativi (with an active link for online versions) and to the product's creator.

When a product is used in a project that is published on social media, you are required to give full credit to Studio Alternativi (with an active tag to Studio Alternativi's profile).

Educational (Academic) Use
When using a product tagged with "Educational Use" you are allowed to use it for academic purposes only. Giving credit to Studio Alternativi is much appreciated.

Commercial Use
Once bought, you are free to use the product without giving attribution.

What is strictly not allowed to do (in all cases)?
Products can't be sold without being part of a bigger artwork like a drawing, collage, rendering, poster or any other work combining Studio Alternativi's digital products with other graphic or digital elements.
Also, you are not allowed to use products from Studio Alternativi in similar or any competing services.
Download Instructions
RAR / ZIP Folders
Please use WINRAR - a free software to open the compressed folder.
AI Vector Files
Please use Adobe Illustrator to open the files
ABR (Photoshop Brushes)
1. Open Adobe Photoshop
2. Open the Brushes Panel: Window > Brushes
3. Select Import Brushes
4. Locate the .abr file on your hard drive and click open to install
5. The brushes will appear in your Brushes Panel whenever the Brush Tool is selected